Bad Religion
Bristol, Academy
7th August 2010

Bad Religion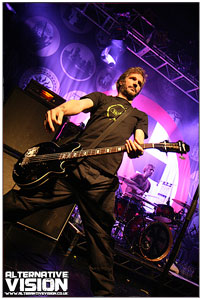 Tonight I headed to the Academy in Bristol to check out Bad Religions first show in Bristol in well over 5 years and I have to say it was one hell of an amazing experience and a much welcome return to Bristol for Bad Religion.

We got to the venue just after 8pm whilst the local support act was playing, I never managed to catch the name of the support act or much of their set as by the time we got a drink and battled through the crowd it was time for them to leave the stage so then we all had a 30minute wait for the roadies to do their job setting up the stage for Bad Religion.

At just gone 9pm the lights dimmed and Bad Religion took to the stage to the English national anthem as the band walked on in a line one after another striking random poses and waving to the crowd before taking their place behind their instruments, the first thing that I noticed was that Brett Gurewitz was not on stage but then again it is rare for him to tour with Bad Religion these days due to his Epitaph Record label taking up the majority of his time and to be honest it seemed like most of the crowd didn't notice this as Bad Religion were tight sounding from start to finish.


Bad Religion played a massive 26 song set that went on for just under 1hour and 30minutes and it featured all their hits and fan favourites as well as a couple of new songs, the set started with the extremely short 'Do What You Want' which got the crowd fired up straight away with many people tossing their drinks in any direction in a mad frenzy so they didn't miss any of that all important moshing time.

From the start of the set right until the end front man Greg Graffin who to me looks like the coolest most sensible front man I have ever seen had both the audience and the other band members eating out of his hand, if he wasn't pleasing the crowd with his fast paced punk vocals and witty humour then he was signalling for the relevant band members to come in and stop with his hand signals which to me is signs of a top frontman who knows his game all so well.


The set featured many great songs such as 'Flat Earth', 'Before You Die, 'Sanity', 'Atomic Garden' and the big fan favourite 'Personal Jesus' amongst others, but the highlights for me was hearing 'Fuck Armageddon, This Is Hell' and 'Generator' played back to back, it was so good to hear such a fast paced track followed up by a slow number.

Normally I'm not to keen on between song banter from bands but Bad Religion were quite unique when it came to talking to the crowd they had a little chat after every five or so songs but they kept it short, sweet and pretty fun with Greg talking about this July being the hottest July in history before playing 'New Dark Ages' and talking how coming to a Bad Religion gig is like going to see your Nan and Gramp in the way that next time they might not be around, and also talking about England and America at the world cup before, however this chat didn't go down to well and ended with Jay Bentley being whacked in the face with a member of the crowds skate shoe, luckily he took it well and gave the shoe back but moments later a second shoe hit the stage with Jay announcing "Fuck it we are keeping this one" whilst promptly moving on to the next song 'Germs Of Perfection'.


Considering that the majority of the band are in their 50's they played an energetic show with guitarist Greg Hetson letting off the most energy jumping and running across the small section of the stage he was situated in with Brooks Wackerman coming in a close second in the energy stakes smashing the hell out of his drum kit.

The set finished with a double whammy of 'Sorrow' and 'Punk Rock Show' and when the band left the stage and the lights came on the crowd stronger chanted "we want more, we want more" but sadly the show was over and the security proceeded to kick people out but I imagine that the majority of the crowd left pleased knowing that after 30 years Bad Religion still have it.

4/5

Review By Trigger