Family Force Five
La More La Morque, Tek-One
Wolverhampton, Slade Rooms
5th August 2010

Family Force Five La More La Morque Tek-One

Wolverhampton Slade Rooms is host to tonight's Family Force Five gig, a nice venue on a rather dodgy street in Wolves which is home to sex shops and takeaways, but the fans ignore the depravity, queuing up hours before the show starts so they can see the southern American dance crunk rockers. The doors open at seven and the fans tear into the venue getting as close to the barriers as possible, eagerly waiting tonight's entertainment.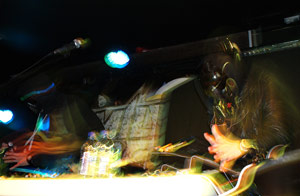 I'll admit now I did a bit of research into the support bands before the gig and I thought I was in for some rocky treats with some rock DJing in the middle with Family Force Five's unique dance rock to end the night. But I was wrong(well about the support bands anyway)!

The night kicked off with Tek-One who I read use a whole host of old toys to make their music and I thought they'd be kind of retro and maybe even computer game inspired. But when they came out on stage with one of them on a heavily decorated "Drop Dead" designed drum kit with the other on a set of turntables I know that I should have listened to their music before making a judgement on what they where going to be like. Howard says hello to the crowd and asks "Are you ready for some dubstep" the crowd screams "yes!" and I think to myself "Dubstep? They must be joking, they're going to be supporting Bring Me The Horizon in a few months and dubstep won't go with that!" but again I was wrong! Felix gets himself comfortable on the drums, and they kick into some dark and dirty beats which sound immense. They're stage show is something different, Howard DJ's and mixes between tracks bringing it up and down whilst Felix joins in on the big beats and breakdowns putting everything his has into beating the living shit out of the drum kit. It was not what I was expecting but I really enjoyed it, and on second thought the big beats will be a good start to the BMTH gig as it really gets you pumped and ready to rock!


It's a shame that La More La Morgue where not as exciting. La More La Morgue, in case you didn't know are a duo who have a web based persona a bit like Daft Punk. But in actual fact its Welsh Lost Prophet Ian Watkins and the crowd of kids here tonight know it, screaming as soon as they catch a glimpse of him, albeit behind a mask and in a leather jacket. LMLM come onto the stage and in fact there are two of them both on one mixing desk, they just go straight into there collection of cd's and start the set. The crowd are lapping up what I think are just average dance tracks that are being mixed well. LMLM play on the fact there are two of them with Ian Watkins friend jumping into the crowd when Ian doesn't need him, making the crowd go crazy as they think they're grabbing onto the Welsh superstar. There set mixes well and they play the odd rock track including 'beastie boys sabotage' but there is something missing, maybe if they had opened the night I might have liked them more as I feel Tek-One had a lot more to offer.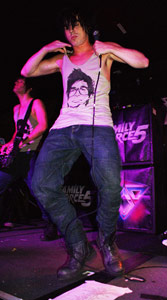 Now for the main event, the reason why people are here tonight Family Force Five!! Even in a small venue like this, the band pull off a nice open to the gig with drummer 'Crouton' coming on stage first and kicking into some beats with 'Chapstique', 'Fatty' and 'NaDaddy' joining him by playing a nice bit of intro music with singer 'Soul Glow Activator' appearing whilst the band kick off proceedings by jumping straight into their biggest hit over here 'Dance Or Die' which gets the kids jumping! The band go crazy and really put everything they have into this performance, rocking out and making the crowd putty in their hands! The song comes to an end to great applause and the band turn it up a notch and change to a rockier number from their first album which is currently unreleased over here 'Country Gentlemen'. It has a catchy chorus and thumping beat which makes it one of those nod your head songs! The entire set is made up of up-beat rock/dance songs which won't let you rest for a minute!

This band really have a huge live show in the states, with a massive drum stand and a wall synthesizer with big buttons which the band hit to play, it's a shame they can't afford to bring it all over here but they have a few things set out for the UK gigs, from playing in tops with their faces on to Soul Glow Activator disappears of stage for a moment only to reappear with big Hulk like gloves which holds his mic and allows him to punch the air and dance around some more! He screams into the mic and jumps into the crowd , whilst the band continue to rock out. The gig comes to an end and everyone can be happy with the performance as Family Force Five really has some energy and they clearly love what they are doing, and its good for them, the audience here loved it too!

Tek One - 4/5
La More La Morgue - 2.5/5
Family Force Five - 4.5/5

Review By James Daly