Get Up Kids
Straight Lines
Birmingham, Academy 2
25th June 2010

Get Up Kids Straight Lines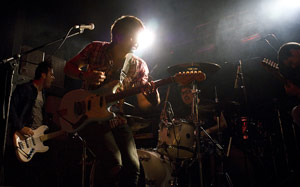 Tonight one of the godfathers of emo are playing in Birmingham and yet more people are queuing up outside for the Scissor Sisters. I can't get my head around it, this band has influenced many great pop-punk and emo bands that emerged over the last ten years, Blink 182 and Fall Out Boy being just two of them, and yet it seems like they've been forgotten . I enquire t the ticket office as to how many tickets have been sold and I get the response of "80". This is disheartening and as I enter a almost empty room I think I'm in for a quiet night here. But as the clock ticks on and it gets closer to Straight Lines taking the stage, out of no-where the room starts to fill up, its no-where near busting but at least we have an atmosphere now, with the cool kids at the bar and the young ones up front.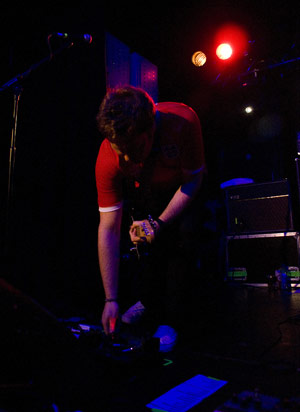 Straight Lines come out to a nice warm reception, it seems like they've got quiet a few fans here for them and why not they're an up and coming band with the looks and a sound that will take them far. They kick into a few thumping punky numbers that sucks the crowd in. Guitarist James Pugh and bassist Todd Campbell thrash energetically around the stage thoroughly enjoying every minute they're up there, it's a shame singer Tom Jenkins has to stay in one place whilst he sings because it seems like he wants to break free from the mics restrictions and join his band mates in the fun. A few songs in the band slows it down with a nice melodic number 'All My Friends Have Joined The Army' that gets the crowd dancing and has a nice catchy chorus of "I've got places to go I've got people to see, I know what I'll do I'll fight for my country". They pound through the rest of their set list with little talk in between tracks as they've got a job to do and they're going to do it well and that's to play some good tunes and leave the crowd wanting more! The set builds up to a big end with a beefy riff heavy 2 min instrumental which goes down a storm. Straight Lines have done well tonight and I reckon you should keep an eye out for them as I'm sure they'll be headlining this venue themselves very soon but in the mean time you can catch them doing some support slots for Attack! Attack! in October.

The crowd wait around anxiously for the Get Up Kids to come on stage, its hard to believe that in 2005 they had broken up and things looked like that would be that. But in late 2008 they got back together and went on to play lots of sold out gigs, but even though the venue has filled up, its still nowhere from sell out and it's a shame, as this band still have a lot to give and with the release of their new e.p. 'Simple Science' I'm sure they can win over new fans and ignite the flames of old.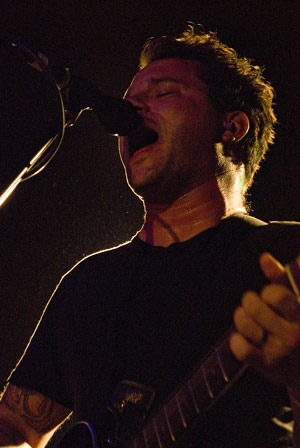 The lights go down the and the Get Up Kids come onto the stage one by one with guitarist Jim Suptic getting into the world cup spirit by wearing an England shirt with his name on the back, which gets some mighty cheers from the crowd. Without wasting any time they kick into they're classic 'Holiday' followed by 'I'm a Loner Dottie, A Rebel' which sound as fresh as they did eleven years ago. Instantly the tone of the night is set up and that's a good ole sing along , with the crowd singing every word and pumping fists into the air to add more depth to the lyrics they've grown to cherish over the years. The Get Up Kids, all though by now they should be The Get Up Young Adults are still as catchy and poppy as ever but somehow sounding gritty and powerful at the same time. They know how to take this crowd on a journey, with ambient keyboards and screeching guitars, they build the crowd up then lower them down with a good mix of fast and slow tunes which make the atmosphere electric. They banter well between songs and look so happy to be playing here tonight, they've mastered the art of live gigs over there extensive carrier and sound even better than they do recorded. There's just something about them that's awe inspiring, which is most definitely shown by the amount of bands they've inspired over the years.

They're set lasts for well over an hour with them playing six songs from the seminal album 'Something To Write Home About' a huge mixture of songs from there other three albums whilst also including covers of 'Beer For Breakfast' and 'Close To Me' as well. Tonight was a treat, The Get up Kids blew everyone away, lets hope they stick around for years to come as they truly know how to satisfy a crowd.

Get Up Kids 4.5/5
Straight Lines 4/5

Review By James Daly