Fucked Up
Japanese Voyeurs, Fecal Veda
Cardiff, Barfly
15th July 2010

Fucked Up Japanese Voyeurs Fecal Veda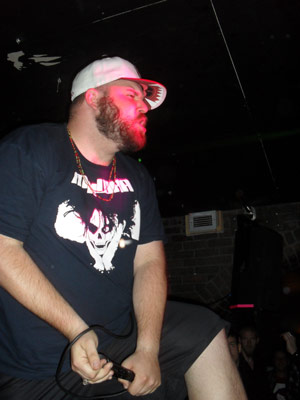 An average Thursday evening in Cardiff, I'm chilling out with Fucked Up in their über-glamorous Barfly dressing room. Sadly, minus the vast array of penis graffiti that once filled the void but thankfully all of the turd band name efforts still intact on the back of the door (New Found Glory Hole? Lynyrd Skynturd? Brilliant). Sampling the delights of Digital Drugs was never on my to-do list, but here we are. Unless migraines are your idea of a high, I'd steer clear. Support noiseniks, Fecal Veda are filling one of Cardiff's grunge Meccas with their Walkmen-inspired chaotic punk noise. Keeping the ever-filling cave entertained through a concoction of very decent vocals and massive amateur-dramatic esque mosh shapes. Following on, Japanese Voyeurs continued to add to the party, installing loud rockness with a certain sense of style.
I have never been at a gig in Barfly where full on metal barriers separated us and the stage. Tonight, that cherry got popped. As revellers took to their chosen places, the security guards settle into their respective spots and bottles of water are being piled neatly around the stage adjacent to towels whiter than Julia Roberts' teeth; whiteness offset perfectly against blood red instruments. Then it began.


The Toronto hardcore pioneers are treating us tonight. From noose-and-gag mic lead strangulations to smashing up Pepsi cans with his head, Damian Abraham and co left no one with their full range of hearing as full throttle tunes like I Hate Summer, Crusades and Two Sticks encapsulated the room. Pepping every soul up with their in your face punk thrashings, lashings of witty banter and frontman Damian hurling his half naked body into the mosh pit and beyond, screaming proclamations of: "I love this town! I love this town! Check out Victimized!" and "I'm bad with words except when it comes to laying down sweet rhymes!"

At times it seemed as though the band are literally a little fucked up, the band are seemingly meek and mild until they set foot on stage. Something changes. Their rib tickling mix of comedy, rock and inter-crowd rockeoke; Damian spent the majority of his set in the pit. Rocking out, moshing out, screaming and causing havoc with plastic cups. As his half naked, rock-out sweaty body slipped and slid throughout the packed out venue, to the bar top and back again, the frontman made memories as everyone got a piece of the action; all the while the rest of the mentalists, completed by bassist Sandy Miranda, guitarists Mike Haliechuk, Josh Zucker and Ben Cook and drummer Jonah Falco, keeping the riffs and beats flowing for fearless frontman to brand our frontal lobes with his fat-guy vocals.

Sporting a delightful Jeffrey Star poster on one of their amps, Fucked Up are promoting the "new face of white power" with more than a tinge of sarcasm and mischief in their antics; frolics involving "getting all 90's on y'all, not like Pennywise. Christ!" and cucumber devouring, over powering the normally sweaty aromas of the front row for the more Pimms' freshness of a fresh, juicy, hard cucumber.

Studio recordings are one thing. Live however, Fucked Up's penchant for party wounded psychosis fun is unparalleled. Nothing but good times.

Fucked Up - 4/5
Japanese Voyeurs – 3/5
Fecal Veda - 3.5/5

Review By Jessica Acreman