The Stranglers
Max Raptor
London, Hammersmith Apollo
19th March 2010

The Stranglers Max Raptor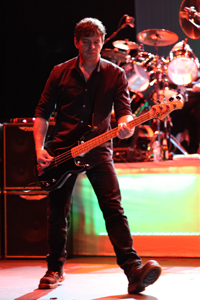 Before I went to this gig there was a disappointing lack of recognition of 'The Stranglers' in my friends below the age of 30 without me following it with "You know, Golden Brown." This upset me greatly as 'The Stranglers' are legends. Maybe I'm just hanging out with the wrong people because when I arrived thinking I was going to be the youngest in the crowd I was pleasantly surprised. The fact it was sold out should have been a heads up really. This just proves they can still put on an amazing show before they even set foot on stage.

As the venue began to fill up the support band 'Max Raptor' emerged. I have never heard any of their material so I met them with an open mind, which I can't say was the attitude of the rest of the audience. Will Ray (the lead singer) burst onto the stage full of energy, pinballing from one side of the stage to the other. The rest of the band had energy equal to his, spewing out a mish mash of punk and rock to a relatively unresponsive crowd. Despite the unsupportive crowd 'Max Raptor' kept their energy up throughout and even managed to get some crowd interaction. Although some of their songs are a bit samey in my opinion they were a good live band and get an 'A' for effort.


By the time 'The Stranglers' got on stage the Apollo was heaving. As they walked out one by one they were greeted with waves of cheers. This crowd wanted a good gig, and they got it.

They started off strong with a good choice of songs. A personal highlight was "Strange Little Girl". Although they played mostly old classics I felt they integrated their new material well into the set. Songs like 'Retro Rockets' fitted in nicely and were well received. However I did feel they hit a bit of a slump midway through for a couple of songs, loosing a bit of energy, but they brought it back and ended as strongly as they started.

J J Burnel and Baz Warne were on form as front men: dancing, pulling faces and generally just putting on a good show. Even though Dave Greenfield was stuck behind his mountain of keyboards he was entertaining, drinking a pint and playing the keyboards one handed. The fact that the show was being filmed for a live DVD did play in the back of my mind that they may have been playing up to the cameras, but who can blame them? If anything it probably just made the show better for everyone that was there.


Expecting an encore or two I was caught unawares by the third. No doubt a play to the camera it was definitely the best of them, ending with a powerful rendition of 'No More Heroes'. It left me, and I'm sure others, with the satisfaction of a good gig. It almost made me forget the slight wane mid set….almost.

Acquiring a jacket, a bra and someone's wallet throughout the show illustrates that 'The Stranglers' can obviously still make the crowd go wild. Being able to draw crowds ranging from fans that were there from the beginning to teenagers, even entire families, is a rare thing. 'The Stranglers' irrefutably still have 'it', whatever 'it' is.

Max Raptor 3/5
The Stranglers 4/5

Review By Nicci Peet