General Fiasco
Black Box Revelation, Akeal
Birmingham, Academy 3
13th March 2010

General Fiasco Black Box Revelation Akeal

Trying to arrive after the queues had gone, back fired as I still had to wait in line for a mind and feet numbing 15 minutes. Damn! I also did a random nice thing I gave my Plus One to a random girl in the cus who was going to buy a ticket!

First up, Akeal a 4 piece Indie rock band, came on to no introduction, not from themselves nor did they do much talking if any that I can remember.From there rather short 4 song set, the vocals weren't too bad if a bit generic, The guitar playing from both lead and rhythm, seeming to be pretty tight with the indie riffs they were playing. The bass playing seemed simple and mirrored the drums which themselves seemed simple and steady. I think a synth player wouldn't go amiss in this band. The songs are of decent length, they say what they need to then it finishes, there also simple enough songs not too much going on with a good full sound , they also seem to follow the same template and after 3 songs there starting to sound familiar as you seem to be able to see whats coming. When the finished there last song, they down instruments and left about 2 minutes of really annoying feedback, not sure what the statement is in that other than annoyance.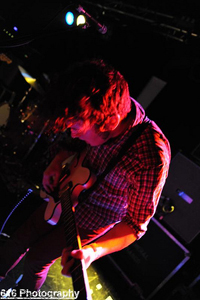 Next up was The Black box Revelation a blues rock band from Two Piece from Belgium, Just a Drummer and guitarist/Vox, its a good full sound, that doesn't feel like its missing an bass player, the drumming is simple and steady, the guitar is fantastic, catchy riffs joined with the drumming keeps the foot or head tapping/nodding. Its a very 70s rock sound that doesn't feel dated unlike the terrible Cosby sweater the guitarist was wearing, hideous.The band got a good response from the crowd and so it should for the solo guitar piece near the end of the set, fantastic.

General Fiasco made the way onto the stage after what seemed an Ice Age, setting up a 3 piece band from a two piece, shouldn't take half an hour, unless there keeping people buying at the bar that is! This 3 piece pop/punk band from Ireland are plying to a decent sized crowd tonight, I've seen smaller crowds next door at the Academy 2! The performance is lively and energetic, but the songs/music its self isn't overly memorable, its not a band I could recommend to my friends who may like this sort of music! Obviously the crowd was digging it, but after the crowd by the stage, there were people just standing around, not looking like they were having a good time! There a tight band who are relatively good at playing live and writing songs, but there no real killer song that sticks in my mind and as soon as a song finishes its pretty much forgotten! The guitar work is good, the bass is almost a non entity as it seems to mirror the drums, I couldn't hear it or feel it as you sometimes can,guess there not a bass heavy band though so ill let it slide, and the drumming its not bad if simple most of the time. I have to say overall id have rather seen the support acts again rather than seeing the headline band once.

Akeal 3/5
Black Box Revelation 4/5
General Fiasco 3/5

Review By Robert Lawrence