Big Elf
Priestess
Wolverhampton, Little Civic
24th February 2010

Big Elf Priestess &nbsp&nbsp&nbsp&nbsp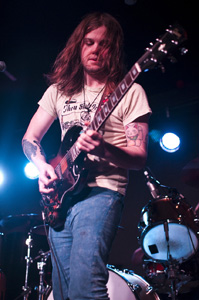 Tonight was one of those nights where you really just do not know what will happen. It may have ended in personal disaster, but luckily the preceding events certainly made it a worthwhile journey. Heading up to Wolverhampton's Slade Rooms, Canada's Priestess took to the stage for tonight's support slot. Priestess haven't had the easiest ride through time. Their debut album was released under heavyweights RCA in 2006. Second album Prior To The Fire didn't pan out the way the band had hoped and was chopped. They missed the early '09 release slot and were cut by RCA. It's possibly this sort of corporate bureaucracy which has this stellar act in a support slot. However under its new TeePee Records label, the band seem to be gathering momentum once more and certainly haven't lost any of the spark which set them apart from most.

They explode into their set, to a crowd which is far from capacity. Powerful opening riffs certainly turned heads and brought in stragglers from the bar. A traditional 4 piece, helmed by front man/lead guitarist Mikey Heppner hold an infectious hard rock / metal appeal. Make no mistake this music is as far from soft with each song played a mutated live version, a much heavier and darker performance than any CD play through. Drummer Vince Nudo absolutely destroys the kit. During the opening track his power becomes further evident as his drumstick splintered and flew off stage. Each song is met with military like precision and such overwhelming strength. He looks almost feral, perched over his kit, yet every beat and roll around is timed to perfection.


The pace of the evening lets up slightly mid set before powerfully driving back into fifth gear. Crowd favourite 'Lay Down' has the audience at it most animated of the evening. The Guitar Hero hit airs brilliantly- again heavier than a digital version. Plastic air guitar gets played by a few guilty parties. Ours included.
"Lets hear it for Big Elf!" declared Heppner, unfortunately met with a muted response. It felt the current audience is here to watch Priestess, and that's all they want plenty of. The band did seem a little static; this however could be because of the rather 'muddy' sound in the venue tonight. Almost too wide and not deep enough, the sound unfortunately blurs instruments together at times and loses definition often. "We'd like to play more for you Wolverhamptonians… is that how you say it?" declares Heppner, sharing a humorous moment with the natives, before blasting into penultimate track FireBird. They close the set with down tuned guitars and a thunderous roar. Vocals have been shared throughout the set by Heppner, Nudo and rhythm guitarist Dan Watchorn; each bringing their own complement to every track. Clearly the band had much more to give, but time is always our greatest enemy. They left the stage to applause with their heads held high. Priestess is one to lookout for, and hopefully will grace the stage again soon with a UK tour of their own.


Once the stage was set for tonight's headliners - Big Elf, the instruments were far from conventional. Several keyboards surround the centre stage position. The band emerge to a more heavily populated and receptive audience, front man Damon Fox donning his trademark top hat. No introduction whatsoever was made as the house music and lights begin to fade, Big Elf jam out their first few notes 'The Evils Of Rock n Roll'. The music fades out leaving the sound of eerily spooky keyboards and low key guitars. Fox continued to dance around the keyboards flanking him before descending the sound into an apocalyptic doom. The roar of drums and guitars swell up, creating a Sabbath styled diminished fifth sound totally encapsulating everything and everyone in the room. It really does sound like the end of everything as the band plunge further and faster down the scale. They emerged at the end of the instrumental opening to acknowledge the crowd, then fire into second song- 'Neuropsychopathic eye'.

Big Elf has such a refreshingly unique musical style, which makes it even harder to pigeon hole them. Imagine Placebo vocals mixed with Tool's experimental style, and a stoner rock sweetener thrown in too. Their sound is offbeat and constantly evolving, keeping you encapsulated and fixated on the performance. It's a really beautiful blend of a traditional quartet interlaced with the sounds of several electric keyboards, with holds the ability to descend into some seriously dark metal when needed. The instrumental sections were most accomplished. All 4 instruments would wail and meander through the minutes as the audience stood in awe of the sounds they were hearing. Wailing guitar solos with an almost honkey tonk piano, really made the whole experience feel brand new.

The magic was kept with audience interaction too. Fox never missed a moment to share gratitude or a laugh, at one time asking two girls at the back of the room, sat on sofas if "this sounded any good?". Once the nod of approval was made, the band shared laughs and continued on.


The second half of the set began with a more blues vibe, laying the building blocks again for further epic instrumental jams. The vibe of the band complemented the average turnout perfectly. It allowed the band to relax, becoming involved with its audience and turning the gig into a sort jam session atmosphere instead of a show. Fox would chime in asking for requests and how people discovered Big Elf, be it through You Tube or CD's. Stories of the adventures of Big Elf are shared with us, making an energy further personal and humorous. Both guitarist and bassist Ace Mark and Duffy Snowhill remained animated and clearly entertained throughout the set, jumping around on-stage and never shy to a little dancing.

The encore comes round and drummer 'Froth' emerges alone. "Where's my band gone?!" he enquires before being joined by the rest of the team. Fox jokes further with bassist Duffy when during the encore he becomes unaware of which song is next. "2 strings away from glory!" Fox jokes, as the band close their evening with a drum a keys solo and disappear backstage just as ominously as they emerged.

If you ever hear of the legend of Big Elf, make sure you keep your ears open. You'll never know what sort of goodness might just creep in.

Priestess - 4/5
Big Elf - 4/5

Words by Phil Davies
Photos by Michelle Midwinter.