Lamb Of God
Job For A Cowboy, August Burns Red, Between The Buried And Me
Birmingham, Academy 3
9th February 2010

Lamb Of God Job For A Cowboy August Burns Red Between The Buried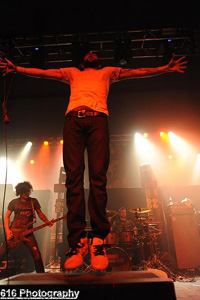 After completing a quick interview with a severly jet lagged drummer from Job for a Cowboy, I found myself back on the mean cold streets of Birmingham, although it was good to meet some friends that had come up from Bristol for this gig.

First up was Between the Buried and Me, I was given some for warning as to how long the first and only song would be, 18 minutes, and given the bands that were on after i figured it was going to be awful, thankfully I was dead wrong, I think this progressive metal song, pretty much covered the span of metal genres, this is heavy metal. The riffs were plentiful in abundance, the drumming was solid all the was through, seemed to be very little let up from him, the bass player moving throughout the entire set, the singers vocals, were some kind of scream/growl combo, that was the only real disappointment, as id have preferred some melodic singing, but the shear musicianship made up for it, and only one song played to, brilliant!

Next up were August Burns Red, again I was expecting something I didn't like, and thankfully i was wrong again, there a metalcore band, but its really good heavy stuff, the riffs are chunky and heavy as is the bass playing, the drumming is spot on, I can barely make out the lyrics as its more of that screamo shit, Im just not a fan, but has been made up by some proper headbanging moments, I got the head nodding, id have been doing a lot more if is wasn't in the middle of shooting them, but those moments,but the heavy breakdowns seemed to be repetitive, they sounded very similar in each song,i like to get the head nodding, just to a different beat. The band have a pretty good stage presence as do all the bands on display tonight. the only song that I know they played was there set closer 'Composure', that was the only title I could make out from the singer shouting it before the song started, Overall the set was really decent, the vocals sucked, but that's my only complaint.


Job For a Cowboy, are the main support tonight, I got on there tour bus, and they were very tired, very jetlagged, so i wasnt sure if the set would be any good or be a bit rusty, they were neither, but I knew what sort of music I was in for, and I also knew I was going to dislike it very much, Im all for aggressive music, but have some decent riffs, not just blast after blast for each song, it does nothing for me at all, Songs they played, that I knew were Constitutional Masturbation, Knee Deep, Bearing the Serpent's Lamb and set closer Ruination. To me there set was noise, im sure someone can point out the intricacy to the music, but I was too busy being bludgeoned to notice.

Lamb of God, Kicking off there tour in the birthplace of Heavy Metal, the home of Black Sabbath, that's there reason for starting here in the middle of the country, this is also there first show of 2010. No signs of rust with the opening few tracks, in your Words, Set to fail and Walk with me in Hell, if there was any rust its certainly been shaken from them and anything in the rafters, its a thunderous start, sending the crowd nuts, but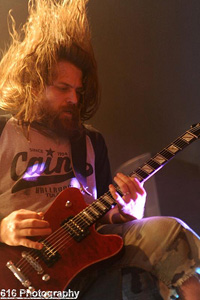 not too much crowd surfing much to my surprise. The riffs come fast and heavy,drumming really spot on, the singing well im not gonna go there, I think Ive said enough on that matter. One thing that cant be faulted is the effort, they've really gone for it from the off, not easing into the tour. The mid set featured songs such as,Ruin, Hourglass, Dead Seeds and Omerta, some solid songs, there pretty good choices, to keep the crowd on the boil.I know my friends are enjoying this near the front, I'm not the biggest fan of lamb of god, you can certainly see why the band has had praise heaped on them, and that there pretty much mainstream now and a top draw.Songs that were towards the end of the set were, Laid to Rest, Contractor, this then took us to the encore, the songs that closed out this decent show were Reclamation, Redneck, such a good song and Black Label a proper heavy set closer, I sam a fair few crowd surfers near the end from the back of the venue, just seeing the odd leg fly up every now and then. It was a good night for the crowd and bands kicking this tour off in high energy and style.

Between The Buried And Me - 4/5
August Burns Red - 3/5
Job For A Cowboy 3/5
Lamb Of God 5/5

Review By Robetr Lawrence