Babyshambles
Birmingham, Academy
19th December 2009

Babyshambles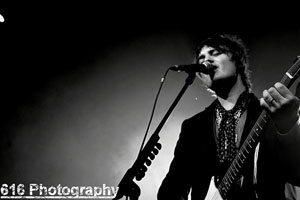 Due to commitments for the good people at Jagermeister, and security at the academy not letting me pass freely between gigs i had photopasses, i missed all of babyshambles support acts, so my apologies!

Well theres one thing i cant stand and that's people being late, i hate waiting around like a tool, and sometimes i have to talk to the crowd, which i did on this occasion and found them to be quite pleasant! Why they were late by about 20 minutes, im yet to find out, but judging by the fantastic performance we were in for and the fantastic stage presence i witnessed, it was worth the wait, so all is forgiven.


Well not being that familiar with Babyshambles material i found i had to write alot of lyrics down to find out what they played tonight so here goes. They opened with with the superlative 'Side of the Road' which was followed by the upbeat 'French Dog Blues'. Ive never seen so many things thrown up on stage before, mostly porkpie hats, which Pete, kindly donned before setting it down on an amp also thrown on stage was a woolly hat, which was placed on a pit security crews head! One annoying thing ill never understand, is people throwing liquid(beer) at the stage, i got covered in the smelly stuff, i dont mind it hitting me but when i hits my camera it pisses me off! Anyway back to the gig, other songs that featured was 'Carry on up the morning', which was one of my favorites from the set, the excellent 'Pipe down' The man who came to stay, Sedative, I wish, the downbeat 'There she goes', this was then followed by a few new songs, by this time id found a seat to watch the gig from, also during this time a fan who ill call thieving bastard, decided to break one of the poster frames housing the babyshambles poster for this gig, a great memento for sure, karma soon caught up though.


There was no real break in the set for the last two songs, which was the fantastic Albion, and adding Birmingham, to the list of cities mentioned in the song, to great cheer i might add. The set Closer and a favorite was Fuck Forever, a great set closer, which had the crowd clapping and singing along to the catchy chorus, it really topped off a great night.

The Crowd was welcomed outside by lots of snow, not bad at all, but bloody cold, i remained inside for the clubnight and looked through my photos, some of which were in black and white and look great!

5/5

This was also my final gig of 2009, a great cap to a great year at Alternative Vision. Thank You Trigger. Its good news that Rage Against the machine is Number 1 in the Christmas Top 40, av it Cowell and on that bomb shell (Track, see what i did there) ill see you all next year. Merry Christmas and Happy New Year.

Review By Robert Lawrence