Athlete
As Tall As Lions. Tape The Radio
Wolverhampton, Wulfrun Hall
10th December 2009

Athlete As Tall As Lions Tape The Radio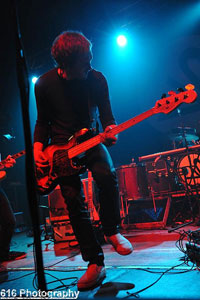 Got into the Wulfun Hall in Wolverhampton tonight, Hassle free yet again but on a cold night, hoping for Athlete to perform better than there rather boring set they played at the Birmingham Arts Festival this year.

Tape the Radio was the opening band tonight, making there way onto the stage and playing there own brand of indie music, with a good full sound for a 3 piece band, with good catchy guitar riffs, solid drumming and simple but solid bass playing. The band seem tight, and good at what they do but the overall product is pretty much standard indie music. There last song, Save a life is much quicker in pace than any other song in there set.The vocals are good but lack range, to progress they need todo things better to make them stand out, but there on the right track, just need to take there sound further.


Main Support and also there last day on the Athlere tour, was As Tall As Lions, this is also there first time in Wolverhampton, there sound is Synth Electro indie music, very atmospheric at times. The singer only introduced themselves after the 4th song. They band were really feeling there music as they showed emotion in what they were playing, the bass player seemed like abit of a poser, but played really well, the vocals were really decent, there was alot going on in the music, but no instrument got lost in the mix. The entire band all 6 of them, seem to be extremely competent musicians, near the end of there 5th song was there trumpet riff from Move on up. The only song i got the title of was from there final song, Wait to Long, which was much shorter than the other songs but was also there best and was easy to see why it was there latest single.

After What seemed a short time, Athlete were underway, opening with El Salvador, not a bad choice but i think this song would have been suited to mid set as it doesn't seem the sort to get the crowd warmed up, this was followed by Hurricanes probably a much better opening song as it has a really good chorus that the crowd can sing along to and they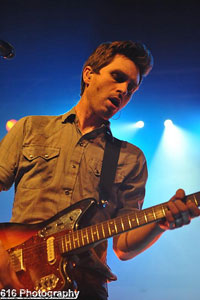 did. One thing i noticed that i didn't think happened was that Joel (vocalist) just sang some of the songs and not played guitar as well. Before Tourist, i think, he shook the hand of the little boy that was inside the robot suit in that video, which was nice.Other songs they played was Black Swan Story, Superhuman Touch, a great song i might add with a really decent chorus, 24 Hours, Wild Wolves, Westside and The Getaway which was the final song before the encore. They opened the encore with and to great cheer, Rubiks Cube which was followed by Wires, which im fairly sure most of the crowd was singing along to at some point, and they closed there set with Half Life. Leaving the venue im sure people felt good leaving, it was a feel good set, not bad at all.

Tape the Radio 3/5
As Tall As Lions 4/5
Athlete 5/5

Review By Robert Lawrence