Alice Cooper
Man Raze
Swindon, Oasis Centre
29th November 2009

Alice Cooper Man Raze


We arrived to Swindon tonight in the freezing cold and pouring rain watching hundreds of die hard Alice Cooper fans queuing around the corner of the venue waiting to be let in, when we finally got in I had a good look at the crowd and seemed that there was a friendly bunch of people in the house tonight with a massive age group ranging from your late teens to people in their 70's with the odd exception of a few children dressed in over sized Alice Cooper t-shirts, thick black eye makeup whilst holding their dads hands, it was cute to see and a sign of just how hardcore the fans if Alice Cooper are.

The main support band tonight was Man Raze a band made up of Phil Collen from Def Leppard on vocals and guitar, Paul Cook from Sex Pistols on drums and Phil Collen's friend Simon Laffy on bass and backing vocals and the great thing for Collen being in Man Raze is that he can now play those towns and venues that were are simply impossible for him to play whilst in Def Leppard as it would be absolute carnage.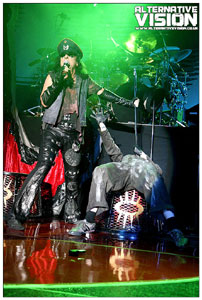 When Man Raze took to the stage they had a simple set up of three men with their instruments and basic lighting, Phil Collen appeared on stage without his shirt on and I have to say that health wise he is the fittest 51 year old that I have ever seen, the man has a six pack and showed off some big muscles. Man Raze played a great set with their straight ahead rock sound, instrumental they were extremely tight letting off some outstanding guitar riffs and generally amazing instrumental work, they played a great selection of songs such as 'Connected To You', 'Shadow Man', 'Halo' and finished with the catchy sounds of their brand new single 'Turn It Up' which featured more bounce than a space hoper being thrown off the Empire State Building, the crowd seemed to take in the sound of Man Raze but they also seemed to be restless with people forever barging past me to enter and leave the main hall favouring the merch stand and the bar to the music at times.


There was a long 30 minute wait for the crew to set up the stage for Alice Cooper, a massive banner with a skeleton face saying Alice Cooper's Theatre Of Death got erected at the front of the stage so no one could see what was happening behind the scenes as the stage show was being set up. The wait may have been long but it was worth it the whole show was spectacular from the opening bell ringing on 'Schools Out' right into the closing bell of 'Schools Out' again which happened to be the starting and closing point of the show tonight.

Alice Cooper had a massive stage show, and the show defiantly lived up to its Theatre Of Death name as the show was so well put together that it actual came across like a massively produced theatre show, as soon as the main curtain dropped at the start of the set Cooper was standing there dressed in his finest black clothing whilst holding a black baton and he kicked straight into his vocals for 'Schools Out' whilst marching around the stage, the touring band Alice Cooper takes out on stage with him were fantastic with those classic guitar riffs, bass lines and drum beats being executed perfectly.


The stage props used tonight were some of the best that I have ever seen at a concert, at one point Alice appeared on stage with a crutch which was made up to look like bones, minutes later a villain appeared on stage tampering with the equipment which led to Alice and the villain having a short scrap before Alice penetrated the villains chest with a massive pole and leaving him for dead, due to his crime Alice was then put into a straight jacket whilst finishing the song and he was then led to a guillotine which chopped his head off a minute later, obviously none of this was real but was well thought out and even better carried out.

The set featured over 20 songs and the highlight for myself and the 3000 other people here tonight was 'Poison' as everyone sang along word for word whilst jumping along having the time of their lives, it was so surreal to see people in their late 60's singing along and moving in such an energetic fashion to the sound of Alice Cooper but once again it is proof of how much of a legendary icon Cooper is, the song finished with nurse Tiffany injecting what has to be the biggest needle of poison that I have ever seen into the chest of Alice Cooper.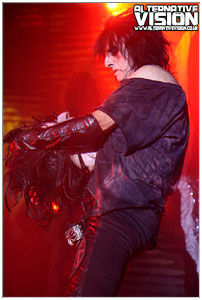 Other songs played tonight were newer songs such as 'Vengeance Is Mine', 'Wicked young Men' and 'Dirty Diamonds' which featured Alice Cooper throwing many silver chains into the crowd which had his fans jumping with joy trying to catch what their hero was just holding, many old classic Alice Cooper songs were played as well but it was 'Schools Out, 'Poison' and 'No More Mr Nice Guy' which really got the crowd moving tonight, however it wasn't just Alice Cooper who kept the crowd entertained tonight as whilst he was off stage on a number of occasions guitarists Keri Kelli and Damon Johnson jammed out in style.

Alice Cooper may be 61 now but he is still as good as he was when he first started, his stage show is the best that I have ever seen and bands such as Marilyn Manson who base their stage show on the show of Alice Cooper have a long way to go before they ever reach the greatness of Alice Cooper, the crowd was also the most friendliest I have ever seen at a show with no crowd surfers and just hardcore fans who were out to have a good time, the show was so good even the security couldn't resist looking over their shoulders to see what was going to happen next, overall the show was epic.

Man Raze - 4/5
Alice Cooper – 5/5

Review By Trigger