Alberta Cross
Three Seeds In Paris, The Rimes
Birmingham, Academy 2
16th November 2009

Alberta Cross Three Seeds In Paris The Rimes

After conducting the interview with Alberta Cross tonight, i ran into some old friends a band that was playing on this night, a band formally known as Spectre, now known as The Rimes, a good bunch of lads, that have tided themselves up a tad, a new name, a new bass player and now sporting a game plan and a manager.

The Rimes, first up, after the first few songs, i saw and heard that this is quite possibly there best performance i've seen them do, it is also the best they've ever sounded! The drumming and bass playing is simple at times, but effective in the songs that are performed. The vocalist and rhythm guitarist Jamie, his playing is decent as ever, his vocals again the best i've heard him sing but limited in range, something im sure he'll develop as he gets older, Mike his lead playing again still needs a bit of a polish, but his solos are getting better, and catcher too. Over all the guys could have moved about a bit more, the bass player on his first show, looked a tad nervous, but played well, but all in all they gave a solid account of themselves, and can surely move on from here.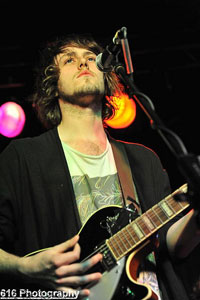 Next up were Three Seeds in Paris, had no idea what i was in for, i was expecting some drab indie stuff as they made there way on stage but after the opener, 'Still need you' and follow up Trouble so simple in its construction but catchy as hell. The last 3 songs were by far the best of the set tho, Bleed me dry with its spaghetti western sound and simple drums, just a brilliant if slightly serious song! 'Even if i tried' and set closer 'No Direction' both excellent catchy songs, that both end up in anarchy on stage, if they could afford it im sure they would be smashing there guitars off the floor! Brilliant sound and band, im sure they could go far with the right backing as every song here could do something in the charts!

After interviewing Headliners Alberta Cross, and seeing how tired these guys were, wasnt sure what sort of performance we were in for tonight, it wasnt a lively one, but the music was spot on and not sloppy at all! They Opened with Taking Control, a fairly decent tune, quite mellow really as the rest of the set was too, very laid back blues rock, really easy on the ears, full of melody, at
times could pick out the individual instruments, the drumming is simple stuff but very effective, the riffs are subtle but fantastic, the vocals are really good, dry at times, bordering on female vocals at times , but at times i noticed that the vocals sometimes got lost in the mix, 3 song blues was a good example of this, the song was heavy and dramatic, the band was very tight in this song, but the vocals seemed to slip away at times. They Closed out there set with Lucy Rider and City walls, after mentioning what merch they had, after they finished they looked tired, but can go safely on in the knowledge that they have entertained this Birmingham crowd!

The Rimes 4/5
Three Seeds In Paris 5/5
Alberta Cross 5/5

Review By Robert Lawrence