Bloc Party
The Grammatics
Birmingham, Academy
15th October 2009

Bloc Party The Grammatics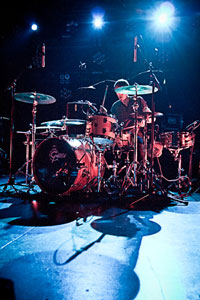 While I've never been a massive Bloc Party fan, they're known for putting on a brilliant show, and, after seeing one of their amazing performances earlier in the year, I was excited for my second helping.

At the Box Office, however, I'm handed a photopass with SUPPORT ONLY scrawled across the top. I'm expecting to shoot the whole show, and after a couple of calls to tour managers, my fears are confirmed – I'm to miss out on photographing Bloc Party.

I make my way into the venue regardless, just in time for supports, The Grammatics. The young band from Leeds have been hand-picked by Bloc Party themselves to support them on this tour, so my expectations are high. I'm not disappointed with their unique blend of indie rock; they flawlessly deliver a tight set of instantly memorable songs from their self-titled debut album. I wonder if I'm the only one to notice that vocalist, Owen Brinley's voice bares an uncanny resemblance to Hoosiers frontman, Irwin Sparkes'; so much so that I have to double check it's not him in disguise.


As the stage is prepared for Bloc Party, I decide to take my chances in the pit, and manage to get in unnoticed with my pass. A security guard informs all of the photographers that we'll need to leave the venue after the first three songs, which doesn't go down well with anyone. To make matters worse, my illegitimate pass is discovered by a meticulous tour manager, and I'm turfed out into the crowd moments before the band takes to the stage. It was worth a try.

I watch the beginning of the show from the back of the overcrowded room, but I can't enjoy myself after the disappointment of the evening, and I'm looking over my shoulder, waiting to be ejected for holding a camera. So I decide to leave. I don't doubt that my review would have been glowing, and it's a shame that the people who promote the band have given the band a bad reputation tonight.

The Grammatics – 4/5
Bloc Party – ?/5

Review By Helen Williams