Frank Turner
Fake Problems, Beans On Toast
Wolverhampton, Wulfrun Hall
19th October 2009

Frank Turner Fake Problems Beans On Toast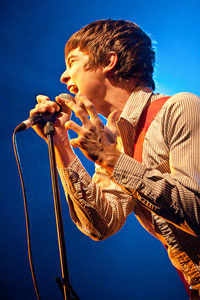 A surprisingly large crowd has already gathered by the time the first support slopes onto the stage. The fantastically named 'Beans On Toast' is one man and his (badly tuned) guitar; a less polished, but no less charming version of Frank himself. To call his style relaxed would be a huge understatement; he chats with the crowd, welcomes hecklers, and gladly takes various suggestions of on-stage gymnastics, treating us to cartwheels and handstands between songs. He makes up his set list as he goes, and frequently interrupts his songs to start again or change key, but it's a joy to watch. The simplicity and innocence of his songs is charming, and the lyrics hilarious and at times profound.

Next up, Fake Problems, a Floridian indie-punk band, seem an unusual choice to support Frank. Their image doesn't quite match their style, but what they might lack in consistency, they make up in enthusiasm. They seem impossibly young and sickeningly talented. Vocalist Chris Farren is particularly charismatic, and his energy seems boundless as he jumps about the stage, thrashing his guitar and singing wildly. It's always fun to see a band who so clearly love what they do, and relish every second of their performance, and I think theirs is a name you'll be hearing more of very soon.


After a long wait, and with the crowd growing impatient, Frank finally takes to the stage. Last time I saw Frank, back in February, he was a supporting act, playing to a handful of revellers, with only his acoustic guitar for company. He blew me away then, and tonight, with a full band to support him, his act has taken a spectacular step up. His return to success since his Million Dead years is long overdue, but he takes his growing popularity humbly and unpretentiously.

He starts the set with some new tracks, 'Live Fast, Die Old' and 'The Road', before taking on a punk version of what is probably his most famous song, 'Long Live The Queen'. Although it's faster and more aggressive, it doesn't lose its poignancy and raw emotion. While his band accompanies him brilliantly on the faster tempo songs, there is a nice scattering of ballads thrown in, and an opportunity to see the 'one man and his guitar' setup that shows his talent at its most raw and true.

In between songs, he engages in friendly banter with the crowd. He seems genuinely amazed at his own popularity and thanks us all for coming, before inviting a girl on stage to play harmonica, who turns out to be unusually talented at doing so. He ends the night with a couple of old favourites, 'Reasons Not To Be An Idiot' and 'Photosynthesis', during which he invites both support acts to join him on stage. It's a fittingly entertaining and sociable end to the evening

Beans On Toast – 4/5
Fake Problems – 4/5
Frank Turner – 5/5

Review By Helen Williams