flood Of Red
Kyoto Drive, Junkyard Morning, Maycomb
Wolverhampton, Civic Bar
1st October 2009

Flood Of Red Kyoto Drive Junkyard Morning Maycomb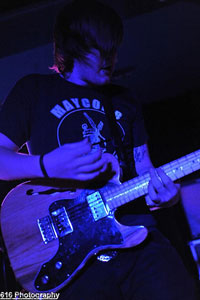 Well traffic was dire tonight as the autumn nights start to close in and the train i was supposed to catch ran 20 minutes late, i get to the venue and yet again im left off the guest, Wolverhampton must not like me much, fun times, but again im prepared packing the tour mangers name and number, so i finally get in.

First up, well second anyway for everyone else were the generic rock band Maycomb, their first track just seemed to go on forever, and the rest of there set seemed very repetitive as the song structure just seemed repeated no variation at all. The guitarist seemed to spend a lot of the gig hiding in the corner. The vocalist seemed very droll his voice was pretty plain. The only part of the set i enjoyed was the last track that they played it was more melodic than the rest of the set so it ended well after the rest of the set was a bit on the boring side.

Next up were Junkyard morning another rock band from these parts, well there set was rather downbeat or serious, nothing really light hearted or playful in the tunes that they were playing, the singer was another guy whos voice was a tad on the boring side, no real range to speak. One of the better points in the set was the solos by the lead guitarists, they were pretty decent, and was the only real highlight in the songs as they were pretty drab affairs.


Main Support act were Kyoto Drive, a pop punk band Ive shot before earlier this year, one of the things i picked up on was the lyrics and how they were sung, must have missed me last time round, there set didn't seem to sound any different though and sounds like they played the same set as they did in may as there were no new songs to speak of, yet again though there's nothing in the set that really grabs my attention, atleast there as energetic as ever well one of them was the rest well maybe it was a night to relax and take it a tad easy.

Flood of Red our fearless editior is a bit of a fan, so i went into the gig expecting good things an i have to say they didn't disappoint, first off the stage was small to begin with, and seeing that there was 6 of the up there, the stage looked a tad smaller. Musically there's a lot going on, drums, two guitars bass guitar, vocals and synth/keyboards, it all seemed to fit well together, nothing sounded muddled, although i could hear some of the individual instruments as the mix may have been slightly off, but it still sounded good, there's lots of melodies and they are not the heaviest band tonight, apparently the openers were, the only thing lacking was the range in the song it was one constant volume if it varied, then the songs could of sounded better, the vocals were the best i heard all night, some decent range, and the drumming was pretty decent also. One thing i noticed was all the guitarists an the synth player were all head banging in unison, looked a bit lame as it seemed a tad rehearsed, but never mind. The synth player also did a bit of drumming just wacking in time with drummer when the songs needed a bit more umph! Overall it was a pretty decent set and they played to a small crowd of about 25, who seemed to enjoy it also.

Maycomb 3/5
Junkyard Morning 3/5
Kyoto Drive 3/5
Flood Of Red 4/5

Review By Robert Lawrence