Skindred
Dead By April, Karnivool, Confined
Wolverhampton, Wulfrun Hall
10 th October 2009

Skindred Dead By April Karnivool Confined

First up were confined within, local-ish, being from Stafford, they are a metal band, they had some good riffs and looked well happy just being there on a fairly big stage, the music that they played was fairly fast and some times heavy, but the vocals weren't very good, when they tried to sing melodically, it sounded dreadful, thankfully they didn't do that too often, overall tho, there an average metal band, with not much going for them, some decent solos maybe, but lacking in a killer edge or catchy-ness.

Next up was a recommended band by not only skindred themselves who they also hand picked i might add but was recommended by the pr person i spoke to earlier in the day, and could quite possibly be the next big thing, Karnivool, i have never seen such a reception for a support band before after the fist song, there what i can describe as slightly prog rock/metal, the only bad thing i can say about them is that there songs sometimes went on for a while, and waned a bit here and there but other than that they could quite possibly upstage many headline acts as i could have quite happily left after seeing them knowing id seen an awesome band and got my moneys worth (well i would have if id paid for the ticket!), there was one song in the middle of the set that blew me away so i will be buying there material asap just to find that song again.

Main support acts were Dead by April , another metal band, they had good stage presence, but there material was somewhat lacking, it was heavy but not really driving and the songs kinda sounded the same, so they got a tad boring really, but the drumming was decent and there were some decent riffs every now and again, but i wasnt really that impressed by them, plus after following Karnivool, it was pretty much downhill after them, a pretty hard act to follow really, again there was nothing that exciting about them, no killer songs the ingredients are there for sure but i wasn't convinced by what them ingredients made.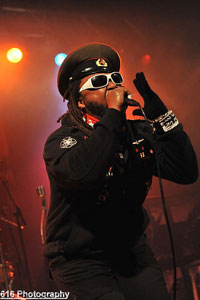 Well the last time i saw Skindred was in 2006 at download, and i have to say of what i can remember is they weren't that good, up until that point all id heard was 'pressure' probably there most well known track, and it was a bit of a surprise when they played that song 4 songs in, the song had to be started about 3 times, due to various reasons, probably just Benji messing about really teasing the crowd, when it finally got stated properly the crowd went mental, its a good song but its not as good as i remember it being, one song i did like was there recent cover of 'Electric avenue', and now my favorite version of the song, other songs they played were 'nobody' and new song and hopeful future favorite, Invincible. One thing that threw me slightly was that alot of there songs sounded the same, there a good band but the first 3 songs there wasn't much variation in them, and through out the set i got a tad board as the songs didn't really grab me much, benji got the crowd involved but i felt board, an off day for me maybe, i like the band but live im not sure, i think id rather listen to them on a cd as its a cleaner sound, i did like the new songs they played but there older stuff seemed tired.

Confined 3/5
Karnivool 5/5
Dead By April 3/5
Skindred 4/5

Review By Robert Lawrence