Blackhole
The Plight, A Shot In The Dark, Throats
Birmingham, Academy 3
19th September 2009

Blackhole The Plight A Shot In The Dark Throats

Ok so another room at the new academy has been explored, the academy 3, probably about the same size as the old one, stage is higher, and no barrier either, im sure however one will appear at some point!

Normally i wouldn't say two bands were the same, but a shot in the dark and throats, just two awful screamo/ grind core/death metal bands that were just flat out awful, a shot in the dark, they looked very wet behind the ears, the drummer looked like he was wondering what he was doing there, and both of the bands sounded very generic, there was no discernible sound from either, i had a general miserable time watching and shooting these bands the only plus side was that throats were more lively and the singer spent most of the time screaming his lungs out in the crowd!

The Main support act were the plight from Leeds, much more agreeable with my ears, sounded like viking Skull at times, very good metal bands, and lively too, wasnt much of a fan of the bass player nearly spitting on me a few times though, the band was very tight in what they played, i even understood some of the vocals, one of the better songs they played was 'Winds Of Osiris' which was a great track, the band except for the drummer, made there way into the crowd which, brings crowd interaction up a notch, but the crowd were really there to see the headline act, but some were willing to get involved but not many!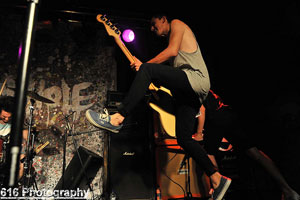 Blackhole, up until a few weeks ago i hadn't heard of Blackhole, had a listen to them on myspace, not too impressed, but i was very impressed with there energetic live hardcore punk band, the small stage barely contained them, much more suited to a bigger stage, cant say i caught the titles of any of the songs, due to the mic cutting out every now and then, but it didn't slow the band down as it might have a lesser band, the singer, payed massive tribute to the fans that turned up, it meant a lot to the band. the front man, was quite good at getting the crowd involved and managed to drag the crowd very close to the stage,making my job harder, but it was good for the fans, if they make it, they probably wont get this close again, they could be following in the footsteps of gallows, if they get things right, which there indanger of doing off tonight's performance, the crowd enjoyed the set, and i did too.

Blackhole 4/5
The Plight 3/5
A Shot In The Dark 2/5
Throats 2/5

Review By Robert Lawrence