Glint
Birmingham, Academy 3
4th August 2009

Glint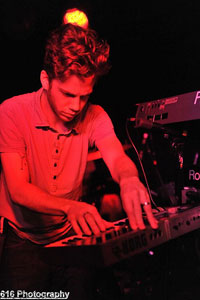 Well i have to say what a disappointment Birmingham music fans were tonight, no one bothered to turn up to this gig, both bands they played pretty much for me, the barman and sound guy, the story as i hear it, the band that turned up didn't bother selling any tickets and another band just didn't bother turning up full stop, which is just a lousy attitude to have really.

Well the band that played first made no effort to introduce themselves as there was no one there to introduce themselves too, so i didnt catch there name, but they played a mix of electro indie, just like the headliner glint, even tho there was no crowd they played a few tracks anyway, no doubt falling short of a full set, they played with no shoes on, which stank the stage up a bit so it was a tad unpleasant shooting them so close, they gave a good account of themselves though, the stuff they did play was catchy in places, had some decent riffs, solid drumming, if a crowd had turned up they may have got some more fans from the gig, but alas just me and the barman were listening. Then as soon as they were done they buggered off home, which was a bit shit of them since Glint were now playing to me and the few working there yet again.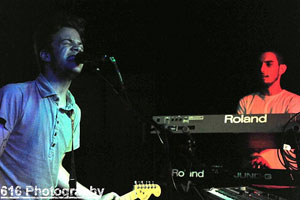 Glint they came on said hello to me and the few that were there, and said they were gonna play a few songs, which they did, two new ones off there latest self titled EP, the tracks were Kernel Panic and freak out which happens to be one of my new favorite tracks, so i sang along a little while shooting then they played a as of yet unreleased track called Man Vs Man which was really loud and different to the first two tracks as it seemed a more serious of a song somewhat darker i guess, Then they skipped to the end of there setlist and played a David Bowie cover, Ashes to Ashes, which was a decent cover and the band looked like they were just getting into it. The last song they played, had the original founding members playing on stage which was the drummer, Mateus Tebaldi and multi-instrumentalist Jase Blankfort, they performed an old song called It hurts, which wasnt a bad track, seemed heartfelt and loud for just two guys on stage. Its a shame that no on turned up as i feel people have missed out here, there is always next time though.

Glint 4/5

Review By Robert Lawrence