Buckcherry
Dear Superstar, Heavens Basement
Wolverhampton, Wulfrun Hall
31st July 2009

Buckcherry Dear Superstar Heavens Basement

Huzzah, i think the curse has been lifted, although now Ive said that, no doubt it will return with vengeance at my next wolves gig. The First band i see are Heavens Basement, the lead guitarist looks fucking cool, in one of them hoodies that you can zip the hood up so it covers your face, the design has a skull on it, and the dude has got sunglasses on, it looks stella, now to the actual band, playing there own brand of flat out balls to the wall hard rock, it sounds great, pretty damn good for a support act as it happens, there set is loaded full of great riffs and licks, the speed is neither fast nor slow, the drumming simple, there are great guitar solos in the right places, the singer is lively and has a decent voice on him. The venue at this point isnt really packed about half full, just like when i entered it, the crowd also seems a bit older than crowds Ive seen at other gigs this year.


The main support act are Dear Superstar, this is a band ive seen grow over the last year, ive shot them 3 times, visually they look the same, but have defiantly grown in confidence, as the rest of the band seem to have caught up with the swagger of the front man, Sonically they sound good, and seem suited to the bigger stage and im sure over the next 12 months they should be headlining their own gigs on the big stage.the Band come on to the Pirates of the Caribbean theme tune, they then open with brink of destruction, followed by Diseased and Distraught. Now while they sounded great while in the pit out side the pit again sounding great and looking good giving it there all, they don't seem to reaching far into the crowd which is somewhat of a disappointment, they round off there set with Raised Voices and Confrontations, and set closer which the singer dedicates to the rest of the band, is Brothers In Blood, it sounds great but the crowd seem dispassionate, perhaps its there old age.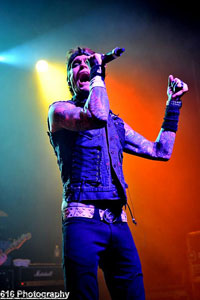 Buckcherry dribble out on stage, with all the swagger you'd expect from this cock rock band, they open with 'tired of you' which is followed by 'next to you' and it seems that the crowd has somewhat come to life.The band which has been going since there reformation in 2005, seem to be playing well, but im not sure what it is but they don't really grab my attention, there's something missing, which im sure fans can put me straight on but the shows songs seems to lack catchy-ness, its probably why Ive never really given them much notice before and i can probably see why now, that no one has ever said to me, 'dude, check out this band', some songs have there moment, with a a big stomping drum beat and one of the guitarists pretty much doing his best Angus Young impression on his SG song in, song out. One personal highlight is a rendition of a deep purple song, 'highway star', but other than that, the songs go by with out much notice, they finish off the set with, 'crazy bitch' and a last song medley of onset which leads into 'Whiskey in the Morning', which brings the show to a close, the fans seem happy enough, but in the end i was just plain bord, cock rock just isn't for me.

Heavens Basement 4/5
Dear Superstar 4/5
Buckcherry 3/5

Review By Robert Lawrence