The Blackout
Silverstien, Hollywood Undead
Wolverhampton, Wulfrun Hall
22nd May 2009

The Blackout Silverstein Hollywood Undead

&nbsp
Wolverhampton must have a curse when it comes to me and gigs, i was on the list but no pass, but thanks to the manager of the Wulfrun hall, she managed to sort it out for me.

So i missed the entire opening act,The Urgency, due to the above complications in getting into the venue, but i managed to shoot the last song, thanks to a geezer of a security guard. What can i say about a band that i only managed to hear one track,well as it happens, it was a pretty good song they played, melodic heavy, not bad.

Hollywood Undead, it was like a horror film had escaped on to the stage, performing there brand of rock/rap, its was a pretty good if a bit short, id have liked to have seen them play for a few more songs, the tracks them selves just ooze catchyness with every beat,which drives the songs forward as well as the steller rapping which is split between the group, one of the group even ended up on top of the speaker stacks, The set was delivered with an amazing amount of energy, bursting from every corner of the stage while performing songs like set opener, 'Undead', Sell Your Soul', 'City' and set closer 'Everywhere' I Go' all delivered with the greatest of ease and the tightness of the group, they left the stage with hearing 'we want more' from the crowd, cant get better than that.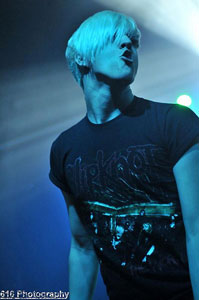 The main support act, Silverstein, had a tough act to follow, this screamo/post hardcore band, its nothing original, it was catchy at times, from this tight band, but at times, the sound of the instruments seemed to have got lost in the songs somewhere, every now and again it became just loud noise, befor getting back into a song, the singer gave a good account of himself, with a mix of screaming and melodic singing, even if the lyrics were of the typical emo variety. The set seemed to have flashed by, the songs themselves were short, it started then it was over, not too bad in my opinion.

The Blackout, Vocalists Sean Smith and Gavin Butle, pretty much explode all over the stage, with there presence in the opening songs, but right from the off all the way through, everything was turned up far too loud, i know live music is supposed to be played loud, but it was excessive, perhaps im getting old, the songs played are catchy with memorable choruses , with great solos thrown in for good measure, they sound good, the drumming was spot on, hardly missing a beat(pun intended) they performed tracks like, 'Children Of The Night' with its catchy chorus sang mostly between the vocalists and the crowd, set opener 'ShutTheFuckUppercut' which got the crowd nicely warmed up, two thirds of the way through the set, Sean, asked the entire crowd to kneel, never seen anything like it before, then asking them to jump, when one of the songs starts, didn't catch the name sadly. The entire crowd was going for it, especially the first 6 rows, the set ended with 'Riot' which involved a huge circle pit which took up the middle of the room, fun times, for me there was too much talking in between songs, the set may have been shorter if they cut back on the talking and could have played a few more songs, but it was a good night for all involved.

The Blackout– 4/5
Silverstein – 3/5
Hollywood Undead – 4/5

Review By Robert Lawrence