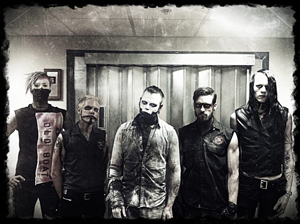 James caught up with Andy LaPlegua from Combichrist to talk about the band being back in the UK, touring with Rammstein, future album plans and much more.
Y
ou are back in the UK on a 7 date tour, how does it feel to be back over here?
Amazing like always, it was one of the first places that really got what we were doing so it's been one of our long term fan bases which is why it's always a joy to get back over here.
H
ow would you say the shows have been so far?
Great! We have a little bit of a different set up to our regular tour; we've been doing an evolution tour which is exactly what it is, I've brought Shawn F with me who was one of my original keyboard player who are alone on stage doing full electronics, we start out with the older stuff with me and him and as it builds up other members come on and the newer material comes out so it's quite different to what we've done before and its been interesting.
H
ave you found time to check out any of the cities and towns that you have played so far?
As much as we can, I get to look out of the windows to see a food place and a pub then I go to both of those then that's about all I get most days. I've been here that often though it doesn't really matter, I've seen London and Manchester too many times, we mostly get the tour bus, dressing rooms and the odd shop haha.
Y
ou have Jayce Lewis, Surgyn and Megan Massacre supporting you on this, how did these supports come about and how have you found touring with them?
The support bands like Lewis, he's been great and Surgyn they've been great too, we've had a few local acts on the shows too. They're great people which is the most important part of a touring situation is that you have the right people with you.
Y
ou are pretty much playing shows back to back for the next month, do you find the relentless touring tiring or does it keep you more focused?
It kind of flows, obviously it's a crazy physical thing because you're so active all the time then you have like 1 hour in which you do nothing. You can't go to sleep because you will be too tired to perform so you just sit there and wait. It's everything or nothing in 1 go but eventually you get into a flow, you don't look forward to the end it just ends, you go home, you don't wanna be home but then you don't want to go back on tour haha it's crazy.
T
hroughout 2010 and 2011 you were handpicked by Rammstein to support them on tour, how did this feel and how did you find the whole big arena touring experience?
I get this question a lot, the best answer I can give is that it was such a great opportunity to us as a band, the fact we can go out in front of a new audience and do this the way we love to do it, no compromising just doing what we do and getting a great response. That was the most amazing thing to us, it was great.
Y
our current album 'Making Monsters' was released back in August 2010, are you happy with how this has gone down with your fans and the press since the release?
Like with every album people are wondering what the fuck we're doing because we change it up a little bit everytime, people then begin to understand. It's like that every single time, most of the people writing online are very negative opinionated people, this album was the one that got the most hate but sold the most albums, so it proves the negative is more powerful than the positive haha I never read into it anymore.
H
ave you started work on your sixth studio album yet and if so what can people expect from it?
We will see, not until next year because of touring and everything because I really want to take time to sit down and do it properly I won't just rush something to meet my 2 yearly quota, I want each album to stand for itself so next year for sure.
W
hen it comes to writing new music how do you go about it and what inspires you when writing your lyrics?
It really depends, most of the songs especially in the past are like horror, gore, sex and things like that, they're written around the character that is Combichrist, when it's more serious in theme its me writing as me but sometimes I put my Combichrist hat on and write as the character.
W
hat's your opinion on the whole anti piracy laws going on at the moment and how it will affect the music industry?

Its not going to stop anything anyway, there's positives and negatives about it. It's such a mess at the moment you can't do anything anyway. The people who really do love music will support the artist; the people who just like to have music on in the background to things will just steal it because they don't care. The music is the important thing so I don't care what they do but it is hard for us artists to survive but it's all down to the fans whether they want you to survive.
W
here do you hope to see Combichrist in a year's time?
Probably sat right here for an interview with you about a new album haha! Sounds likely.
O
ne last random question that we ask every band, if you could be an animal out of a zebra or Giraffe which one would you be and why?
Giraffes don't get eaten by lions, they're tall and shit so they can see when the lions come. Zebras just have to run and eat grass, who the fuck wants to eat grass at least giraffes eat fruit right? So giraffe
T
hanks for your time is there a message for your fans reading this?
Thanks for being a part of the Combichrist family and coming out to see is, you're the reason we survive so for that we thank you.
Interview by James Webb