Devil Driver
Behemoth, Suicide Silence, Trigger The Bloodshead, Malefice
Wolverhampton, Wulfrun hall
23rd October 2009

Devil Driver &nbsp Behemoth Suicide Silence TTB Malefice

So no problems getting into the venue tonight, although there was some uncertainty, as to how many bands i was going to be shooting tonight, but all through the gig i kept my head downif i dont ask, i should be fine. But i was glad to be shooting metal bands again, more my taste as there always good to shoot, but not my particular brand of metal though tonight?

First up was Malefice, a metal band from reading, and all through the 3 songs i got splattered with water that the singer felt he needed to cover himself with every 30 seconds, so standing in front of him for too long would have resulted me in drowning! Sticking with the singer i really couldn't understand his death metal vocals, im still not sure why people 'sing' like that, no one can understand a word there saying unless you have a lyric sheet in hand, but the crowd loved it, the music its self was fast heavy and a tad grinding at times, the lead guitar was pretty good at times, the drums was just constant machine gun double kick drums , i could also really feel the bass but i guess that because i was standing by the speakers for there set, the crowd loved there set, but for me it was boring, there was nothing really original in the structure of there songs, everything about it was dull.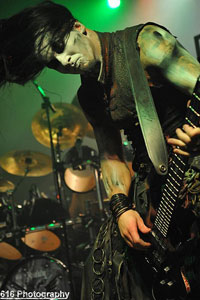 Next up was Trigger the Bloodshed, a death metal band im pretty sure, there set was short, they only played 4 songs for it was 3 and a half songs too long, there was plenty of aggression there which is good to see and shoot, but it was all speed and little melody really, to be honest i cant stand this music there's nothing appealing or redeeming about, im glad they played a short set, but again the crowd lapped it up.

On next were Suicide Silence, i was hoping for possibly some decent vocals at some point tonight, unfortunately with this band its quite possibly the worst kind of vocals, squealing, way worse than the death growl, it sounds like a pig being slaughtered (yes i know what that sounds like), also there seems to be some sort of competition on which band can blast beat the previous band off stage, its pretty boring and predictable again, slow grinding blast beat etc, just no imagination at all, there was more crowd participation tonight, which is good to see and great for the fans, there was even a few circle pits on the move too, but again this music is doing nothing for me, but im pleased with the photos so far.

Main support act was Behemoth, they came out in there gnarly corpse paint, it was more death metal esq music, but this was more palatable, i could hear some slight middle eastern influences, they were quite entertaining too, but the music seemed repetitive, there were some decent head banging moments from the set, but them leaving the stage after every song, ment that there seemed to be little being momentum built up, by the time it got going, it went back to zero again, a slight annoyance was that, when there was a guitar solo, i couldn't really hear it as it was being drowned out by the drums, but the crowd again really ate it up.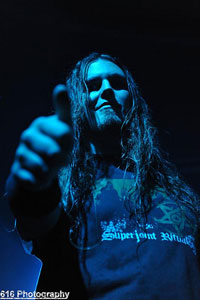 Devil Driver were finally on, the night seemed to have went by quickly, and i was expecting to be made to leave the pit, but it never happened, groove metal was the name of the game and the singer seemed to know a few people in the crowd, including a photographer, the energy was there from the beginning really, there was a lot of headbanging and a fair bit of movement from the guys on stage, it was also good to hear some better vocals finally, they opened there set with end of the line, followed by Wander then Nothings wrongs, this had the crowd going mad quite early, which is good, then the new title track was pray to villains, which got a good reception. other songs that featured was, i could care less, hold back the day and vengeance.The energy from the band kept on coming, when the encore finally arrived the crowd wasn't disappointed with an excellent performances of Wretched and I Dreamed i Died. I think by the end the crowd was full of dizzy heads and stiff necks as it was boiling in the room from all the spent energy tonight, and devil driver with there energetic performance, topped it off a decent night for the fans really with a solid performance.

Malefice 3/5
Trigger The Bloodshed 2/5
Suicide Silence– 3/5
Behemoth – 4/5
Devil Driver – 5/5

Review By Robert Lawrence